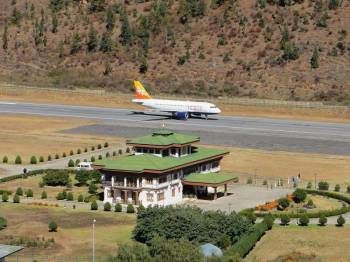 Arrive at Paro by Drukair flight, Royal Bhutan Airline. You will be welcomed by our representative who will be your tour guide during your entire tour in Bhutan. Drive to Thimphu and check into your hotel at Thimphu and after lunch visit the following:
The National Textile Museum which is a good place to see the art of traditional weaving being kept alive and preserved through exhibition and has a good collection of old textiles which are rich in colors and designs. You will also see people weaving with intricate designs.
The folk heritage museum, an outdoor museum that gives an insight into rural life.
The School of Traditional Painting of Arts and Crafts where students undertake a six-year course on the 13 traditional arts and crafts of Bhutan.
Centenary Farmers' market where farmers would be selling their wide range of farm produces (vegetables from farms and wild ferns or bamboo shoots collected from forest, flour, rice, roasted rice, rice flakes, spices, yams both cultivated and wild ones collected from forests, fruits, etc) and livestock products (mainly cheese and butter). Free interaction with people from town as well as from villages come to this weekend market. Weekend market is from Thursday-Sunday( 4 days).
Tashichhoe Dzong, a fortress of the glorious religion. It was built in 1641 by Zhabdrung Ngawang Namgyel and was reconstructed into present structure by the late King, His majesty Jigme Dorji Wangchuck in the year 1962-1969.It houses the secretariat building, the throne room and the office of the king, and the central monk body.
Watch Archery match : Bhutan's national game
Craft Bazaar –A one stop place to witness Bhutanese culture and buy Bhutan made art and craft product. The Bazaar in its 80 stalls covers all aspects of the traditional arts and crafts of Bhutan. At this Bazaar craftsmen and artisans from across the country display and sell their handicrafts. And also visit other handicraft stores. 
In the evening you may visit local handicraft stores.
Overnight at a hotel in Thimphu.